Sveikos!
Nenumaldomai artėja meilės kupina šventė - Valentino diena. Kai kurie žmonės teikia šiai šventei didelę reikšmę, kai kuriems ji tiesiog įprasta diena, bet vis dėlto tos progos nepastebėti neįmanoma - širdelės ir raudonais niekučiais sukrautos parduotuvių lentynos, įsimylėjusios draugės ir jų dūsavimai, Valentino diskoteka mokykloje, lipdukai - širdutės ant skruostų... Kai kuriems šie dalykai patinka, kitus jie tiesiog erzina. Kaip taisyklė, šios dienos dažniausiai nemėgsta žmonės neturintys antrų pusių. Tačiau skubu nuraminti - visai nereikia liūdėti ar ignoruoti šios šventės vien dėl to, kad esi vieniša. Ją puikiausiai galima paminėti ir su draugėmis ar šeima. O kad ši diena būtų dar įsimintinesnė, noriu jums pasiūlyti keletą idėjų:
Dovana amžinai meilei
Kinijoje tradicinė dovana, kurią vaikinai ir merginos dovanoja antrai pusei Valentino dienos proga - stiklainis popierinių, pačių darytų origami žvaigždučių. Tai būdas parodyti, kaip stipriai myli, ar kaip tau rūpi kitas žmogus. Gaminti tokias žvaigždutes visai nesunku ir priemonių ypatingų tam nereikia, tačiau dovana neabejotinai bus labai miela gavėjui.
Tokias žvaigždutes lankstyti tikrai nesunku, viskas ko reikia - tai spalvoto popieriaus juostelės ir šiek tiek kantrybės bei kruopštumo:
Stiklainiuką tokių žvaigždučių gali padovanoti vaikinui, mamai arba tiesiog draugei. Norėdama, kad ši dovana būtų netik maloni akiai, bet ir šildytų širdį, kiekvienos žvaigždutės viduje gali palikti po palinkėjimą ar šiaip mielų žodžių.
Pagal tradiciją, žinutę gavėjui perduoda ir žvaigždučių skaičius. Tam tikras kiekis turi simbolinę reikšmę:
1 žvaigždutė :
"Tu man esi tik vienas (-a)"
2 žvaigždutės :

"Ilgiuosi tavęs"
9 žvaigždutės:
"Ilgai neblėstanti meilė"
55 žvaigždutės:
"Džiaugiuosi, kad turiu tave"
99 žvaigždutės:
"Tegul mūsų draugystė tęsiasi amžinai"
101 žvaigždutė:
"Tu esi tas vienintelis"
365 žvaigždutės:
"Laimė visiems metams"
520 žvaigždučių:

"Aš tave myliu"
548 žvaigždučių:
"Negaliu be tavęs gyventi"
999 žvaigždutės:

"Begalinė meilė"
1314 žvaigždučių:
" Amžina meilė"
Taigi, jei nori nustebinti vaikiną arba draugę - lėk lankstyti popierinių žvaigždučių!
Taip pat sakoma, kad jei pagaminsi 1000 žvaigždučių, 1 tavo tavo noras išsipildys. Nežinia, kiek tame tiesos, bet stiklainis pilnas žvaigždučių atrodo tikrai gražiai :)
Jeigu neturi laiko ir kruopštumo tuo užsiimti, gali pabandyti dar vieną mielą dovanos draugei idėją - Valentino dėžutę. Tokią pasidaryti labai paprasta, tau tereiks nedidelės dėžutės ir smulkių dovanėlių. Dėžutę gali papuošti pasitelkusi fantaziją, o į vidų įdėk saldumynų, šokoladukų, auskarų, draugystės apyrankę ar šiaip ką nors mielo.
Cukruoti

Nagai
Pasipuošti, žinoma, norisi visus metus, tačiau tik per Valentino dieną gali drąsiai rengtis barbiškai ar
rūžavai
nuo galvos iki kojų ir nebijoti atrodyti banaliai ir vaikiškai. Aišku, persistengti nepatariu, bet viena kita "saldi" detalė tavo išvaizdoje nepakenks. Mano siūlomas akcentas būtent to saldumo ir pridės, nes tai - "cukriniai" nagai.
Norint tokio efektai visai nebūtina skubėti į manikiūro saloną, nes tai nesunkiai galima pasiekti ir namuose. Viskas ko prireiks - tai nagų lakas ir cukrus. Specialaus dirbtinio cukraus manikiūrui yra pirkti kosmetikos parduotuvėse, bet puikiai galima išsiversti ir su paprastu, kurio tikrai rasi savo namuose. Kuo jis smulkesnis, tuo geriau. Nusilakuok nagus norima spalva (gražiausiai atrodo pastelinės), ir kol lakas dar neišdžiūvo, pavoliok nagus cukruje. Palauk, kol jie išdžius, nukratyk cukraus perteklių ir padenk nagus permatomu laku. Štai ir viskas! Tik pasistenk atsispirti pagundai laižyti nagus!
Pusryčiai iš širdies
Jei nori Valentino dienos rytą nustebinti šeimos narius, nepatingėk atsikelti anksčiau ir iškepti štai tokią širdelės formos kiaušinienę. Tai visai nesudėtinga, tiesiog išilgai perpjauk dešrelę, jos galus sujunk dantų krapštuku o į visų įmušk kiaušinį. Atrodo nieko ypatingo, bet kai pagaminta su meile...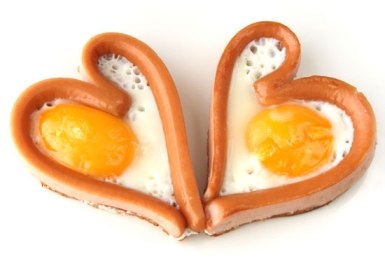 Dar vienas, šįkart saldus ir sudėtingesnis receptas - širdelės formos spurgytės.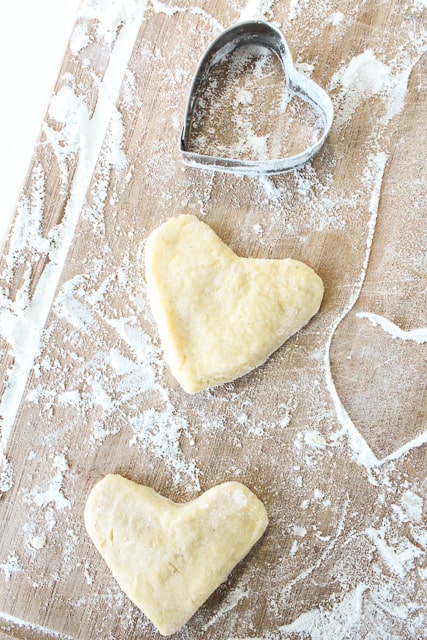 Sudėtinės dalys:
Kiaušiniai, 3 vienetai

Varškė, 500 gramų

Soda,1 šaukštelis

Cukrus, 6 šaukštai

Grietinė, 1 stiklinė

Miltai, 400 gramų
Gaminimas:
Į indą sudedame visus produktus ir išmaišome. Minkome tešlą, jeigu ji per skysta, dedame dar miltų. Išminkę dedame 1 val į šaldytuvą. Išėmę kočiojame ir darome širdelės formeles, verdame 3 min. aliejuje.
Glazūrai reikės:
1/4 puodelio
pieno
1 arbatinio šaukštelis
vanilės ekstrakto
2 1/2
puodeliai
konditerinio
cukraus
Rožinio

maisto dažiklio
Torto pabarstukų
Pieną, vanilę ir maisto dažiklį supilk į katilėlį ir šildyk ant mažos ugnies. Lėtai maišydama supilk cukrų. Nuimk nuo ugnies ir po vieną merk spurgas. Apibarstyk pabarstukais.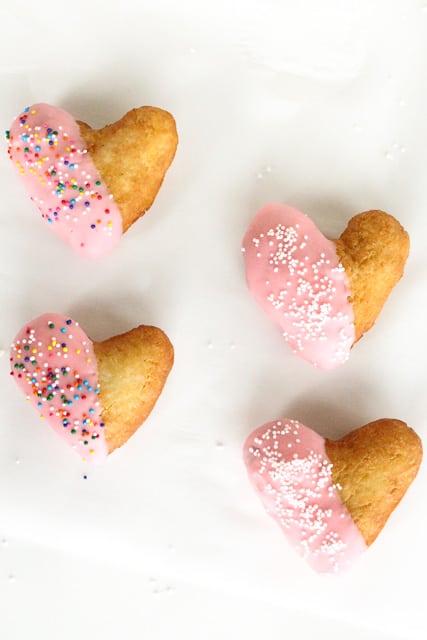 Taigi, tiek idėjų šiam vakarui. Ar jūs ruošiatės kaip nors paminėti Valentino dieną?
-Akvilė